Narco-Power
Apr 4th, 2006 | By Michel Marizco | Category:
General News
,
Organized Crime
,
Politics

Email
Facebook

Twitter

Post to Delicious

Stumble This Post

Buzz This Post

Digg This Post
THE BORDER REPORT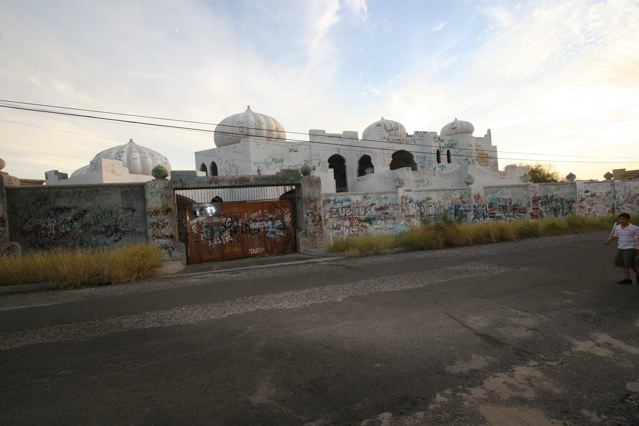 HERMOSILLO, SONORA – Gov. Eduardo Bours Castelo wants to tear down one of the last vestiges of the most powerful drug lords Mexico ever knew.
Topped with Russian cupolas and covered in graffiti, the narco-castillo of Amado Carrillo Fuentes stands three stories in the air, looming over the swank homes in Hermosillo's Colonia Pitic neighborhood.
Amado, the Lord of the Skies, dominated the cocaine trade between Colombia and the United States, buying 747 jets in the U.S. and ferrying tons of cocaine up to the border at Ciudad Juarez and El Paso.
In the 1990s, he purchased the unfinished castle from the proprietors who were left holding it when Tucson's own drug lord was arrested in 1988. Jaime Figueroa Soto, the biggest drug lord ever arrested in Arizona, went down hiding in a closet in his million-dollar home in Scottsdale.
Narco-castillos dot the desert of northern Mexico. This one, dubbed the Palacio de Mil y Una Noches, is estimated to cost upwards of $5 million, sitting less than a quarter-mile from the governor's mansion in this provincial Mexican capital.
In a frank discussion with reporters Monday, Gov. Bours said he's asked the Mexican Federal Attorney General's office to turn the seized property over to the state so it could be torn down and the property turned into a park.
Describing it as a haunted house in El Imparcial newspaper, Bours said he's asked the feds to knock it down but that they say they can't because the case is still in federal court. The feds seized the house in 1993.
History has a strange way of repeating itself and familiar names keep coming up in the narco-world.
Jaime, now 57, was released from a U.S. prison in Florence, Colo., March 20, 2006.
Amado Carrillo Fuentes died July 4, 1997 after a bad reaction to a plastic surgery operation. His death certificate listed him as a ganadero, a cattle rancher.
His brother, Rodolfo Carrillo Fuentes, was killed Sept. 11, 2004, sparking off the northern Mexico drug war that we see today.
It's become Mexico's own 9/11, one that's embroiled at least three different states, from Tamaulipas to Sinaloa to Baja California in a drug war.
El Universal newspaper tallies more than 200 people killed as a result this year. Frontera News Service noted that it's become even more dangerous in Nuevo Laredo since the Mexican military moved in with homicides rising to more than 70.
The resulting hit on Rodolfo was finally enough to scare a young reporter out of Culiacán to Hermosillo.
Alfredo Jiménez Mota quit his job in Sinaloa and came to Hermosillo following that killing, said his friend, Sergio Garcia, speaking during a memorial service for Alfredo near Guaymas last Sunday.
Alfredo worked five months for the daily newspaper, El Imparcial, quickly making a name for himself in covering the drug cartels for El Imparcial.
However, as the major daily, Reforma, noted yesterday, El Imparcial is inexperienced in covering organized crime. The paper consistently led with stories Alfredo broke. Now it occasionally leads with stories about his disappearance.
After a series of stories exposing the most affluent drug traffickers in the state, Alfredo, 25, disappeared April 2, 2005.
He's never been found.
Last August, Mexican papers formed a team to investigate Alfredo's disappearance, dubbing it the Phoenix Project after the investigative reporting that followed the 1976 killing of Arizona Republic reporter Don Bolles.
In that case, the reporters finished the work Bolles started. In this case, the newspapers published their findings in Monday's newspapers.
They incorrectly stated twice that Alfredo was 26 when he disappeared. He was not. He would have turned 26 last February.
While they haven't arrived at a conclusion, the newspapers chose to focus most of the allotted space to the leader of a Sonoran meth gang, Los Numeros, who control the meth corridor to Phoenix, Ariz., through Sonoyta, Sonora.
The investigative portion of the coverage focused almost exclusively on Raúl Enríquez Parra, leader of Los Numeros. Nothing in the articles state that Los Numeros were any more responsible than anybody else. It's also a convenient bet. Raúl Enríquez is dead.
He was shot in the head and thrown out of an airplane last October. His body was found wrapped in an American flag in a ranch in Navojoa.