Justice – Sonora Style
Jun 23rd, 2008 | By Michel Marizco | Category:
General News
,
Organized Crime
,
Politics

Email
Facebook

Twitter

Post to Delicious

Stumble This Post

Buzz This Post

Digg This Post
THE BORDER REPORT
The videos are disturbing; a group of faceless Sonoran State Police loading a pile of bloody bodies into the back of a police truck.
"There you go. Go fuck your mother, puto," growls one officer, as he finishes pushing a still breathing body on top of the heap. An arm moves, just barely. Maybe it's the shifting weight of the carcass. Maybe a last bit of life.
"Assholes," he says as he pushes the body in one last time.
A pair of cellphone videos recorded the aftermath of the killings by law enforcement. They were made available to The Border Report by a source who released them on condition of anonymity because she fears for her life.
Someone laughs in the second video. The camera zooms in on the emblem of the Sonora State Police, then pans out, capturing the hot, still air of the Sierras.
A lot of murders went down that day, May 2007; still the single most deadly day in the cartel wars that have taken over Mexico. Twenty-four dead.
The day's events began in the predawn hours of May 17 when a group of killers erupted throughout the city, snatching twelve cops and civilians off the streets. One was beheaded, another, a hotel owner with ties to migrant smuggling operations leading into southeastern Arizona had a "Z" etched into his back with a hunting knife. For six, eight hours, the Gulf Cartel killers lay siege to Cananea.
Mexican CIA reports show that the leader of the group was a former Sonoran cop, Saúl Garcia Orduño, El Yaqui.
City police ran away, at least one defecting to the United States. The killers raced through the streets, grabbing two pre-teenage girls, setting up roadblocks and snatching cellphones from terrified residents trying to drive away. Loaded on cocaine, they raced southeast to the old Spanish provincial capital of Arizpe where they grabbed an old rancher, slicing his ear off and forcing him to lead them to the banks of the Río Sonora where they planned to escape.
The Sonoran government's response was vicious, perhaps, justifiably so.
Autopsy photos made available to The Border Report show that each of the dead was taken out with a headshot from the sky. State police meticulously hunted down each man with a sniper rifle. Some have said the killers tried to surrender and were hunted down anyways. A third video showing that incident is allegedly archived in Hermosillo.
I keep thinking back to what a Sonoran police official once said to me over tequila one night.
"What other state in Mexico has reacted with our ferocity against these people?" he said. "Not even one, carnál. Not even one."
That has proven to be true. Sonora's response against the cartel was performed nearly without any federal help, whatsoever. Mexican Army troops didn't arrive until late afternoon. The Sonorans handled it themselves.
But the ferocity with which the state reacted was never released to the public. Right or wrong, and let's be honest, these were homicidal cartel gunmen who were taken out, the response was primitive, if not brutal.
The methods were buried, the media kept away from what was going on, a mile down a dirt road.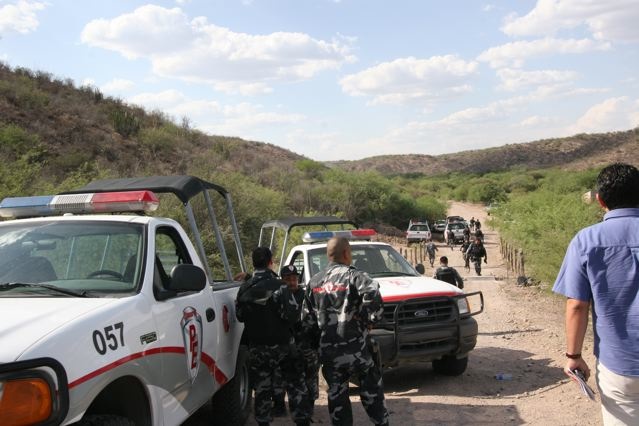 Last week, Gov. Janet Napolitano entered into a law enforcement interchange agreement with Sonora and that's an important step for law enforcement in both countries. But perhaps it's equally important to have all your information before you reach those levels of decisions.
On the other hand, it's very possible that Arizona Department of Public Safety director Roger Vanderpool and Attorney General Terry Goddard have already seen these videos and know what went down in Cananea that day.
If U.S. officials didn't know, they should.
If they did know, well, that's a kind of approval in itself.
-- Michel Marizco