Pure Sinaloa
Feb 25th, 2009 | By Michel Marizco | Category:
Organized Crime

Email
Facebook

Twitter

Post to Delicious

Stumble This Post

Buzz This Post

Digg This Post
THE BORDER REPORT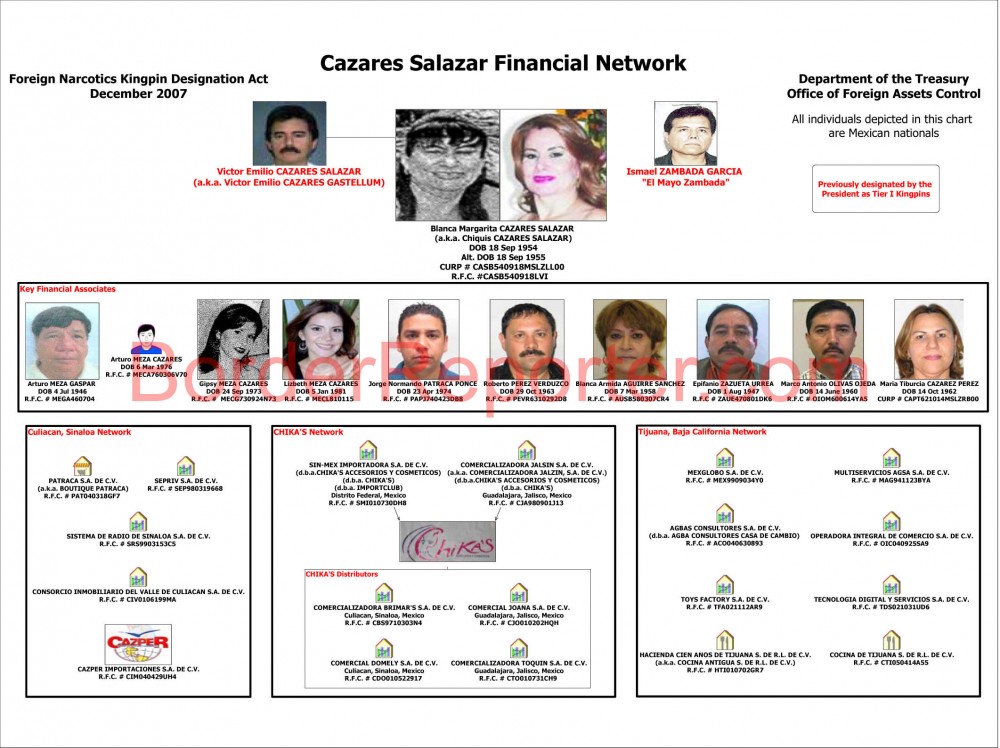 (click to enlarge)
You've all heard the news by now I'm sure, 750 members of the Sinaloa Federation taken down by the U.S. Feds.
It's been the talk of the border all day, but that's not why you're here, is it. Hell no. Let's take a look at what the Feds are
not
saying. That is always so much more interesting. In brief, and I'm citing the U.S. Attorney's Office's statement here, "Operation Xcellerator has led to the arrest of 755 individuals and the seizure of approximately $59.1 million in U.S. currency, more than 12,000 kilograms of cocaine, more than 16,000 pounds of marijuana, more than 1,200 pounds of methamphetamine, more than 8 kilograms of heroin, approximately 1.3 million pills of Ecstasy, more than $6.5 million in other assets, 149 vehicles, 3 aircraft, 3 maritime vessels and 169 weapons." The investigation started because the Feds lost a guy by the name of Victor Emilio Cazarez Salazar. Cazarez is a top-level trafficker who controls Mexicali for the Sinaloans. He was indicted in 2007 and is a fugitive. Unfortunately, the Americans used the wrong name to identify him. His real name is actually Victor Emilio Cazares Gastélum, 45 years old, born in Guasave, Sinaloa. Cazares is the brother of The Empress, remember her? Sure you do; Blanca Margarita Cázares Salazar, La Emperatriz, money launderer for the Sinaloa Federation from the 1990s, when Amado Carrillo died, to now. The Empress is an ex-girlfriend of Ismael "El Mayo" Zambada, lives in Culiacán, Sinaloa. Her son was murdered along with Joaquín "Shorty" Guzmán's son in an attack in that city last spring. Now you remember! At the time, people blamed Arturo Beltrán and the Leyvas for the killing, saying it sparked the current drug war, breaking the Sinaloa Federation and decimating Sinaloa and Sonora. Then the rumors came out, and they're still being heard, that it was El Mayo who went after Guzmán's son. I called Washington a little while ago but the Justice Department's office says they're not releasing the names of those arrested. With a little help from
un compá
, we're a little bit closer to unraveling this mess. The Feds can't spell, so when they filed the indictments against The Empress's brother, they spelled his name Gastellum, don't ask me why. The indictment was filed and sealed by a U.S. District Court in California in February 2007. Happily, it's no longer sealed. Let's see what it says. The indictment was filed against "El Licenciado" Cazares Gastellum, Jose Oscar del Castillo Gallardo, Carlos Cuevas, Sergio Kaiser, Santos Fabian Rocha, Carlos Valle, Miguel Angel Cardenas, Jose Ismael Urquiza, Luis Eduardo Alvarez, Karlo Humberto Armenta, Gilbert Vasquez, Octavio Amezcua, Rosario Garcia, Gaspar Puentes, Arturo Guardado, Elisa Valenzuela, Tony Ramos, Arturo Fontes and Roberto Daniel Lopez. In brief: del Castillo is Cazares' son-in-law and negotiated multi-ton cocaine load shipments to the U.S. Carlos Cuevas: Ran the show in Imperial County and was the Mexicali connection for the Sinaloans. Santos Rocha: Was in charge of packing the cocaine in cars to get it past U.S. Customs at the ports. One of his best ideas
seemed to be
throwing down a row of sandbags in a cross-border canal and using that as a road to run loads across. I don't know why the Feds never noticed a row of sandbags sitting in the water, but alright. Miguel Cardenas and Jose Urquiza: Acted as the look-outs for the load vehicles. Octavio Amezcua: Was in charge of the marijuana loads. Charging papers from the Justice Department show that the Cazares family controlled 19 restaurants, hotels, maquiladoras, radio stations, and import companies in Culiacán, Tijuana, Guadalajara, and Mexico City. That fine newspaper, Zeta,
uncovered a little more
on Cazares last year, when reporters found that he was receiving federal welfare benefits from the Mexican government for three hundred head of cattle in Badiraguato, Sinaloa. I'll add more information as this case continues to unravel. I'm working on gathering some of those 755 names.
Sále
.