Guatemala en la Mira – Special Report
Feb 19th, 2009 | By Michel Marizco | Category:
Organized Crime
,
Politics

Email
Facebook

Twitter

Post to Delicious

Stumble This Post

Buzz This Post

Digg This Post
THE BORDER REPORT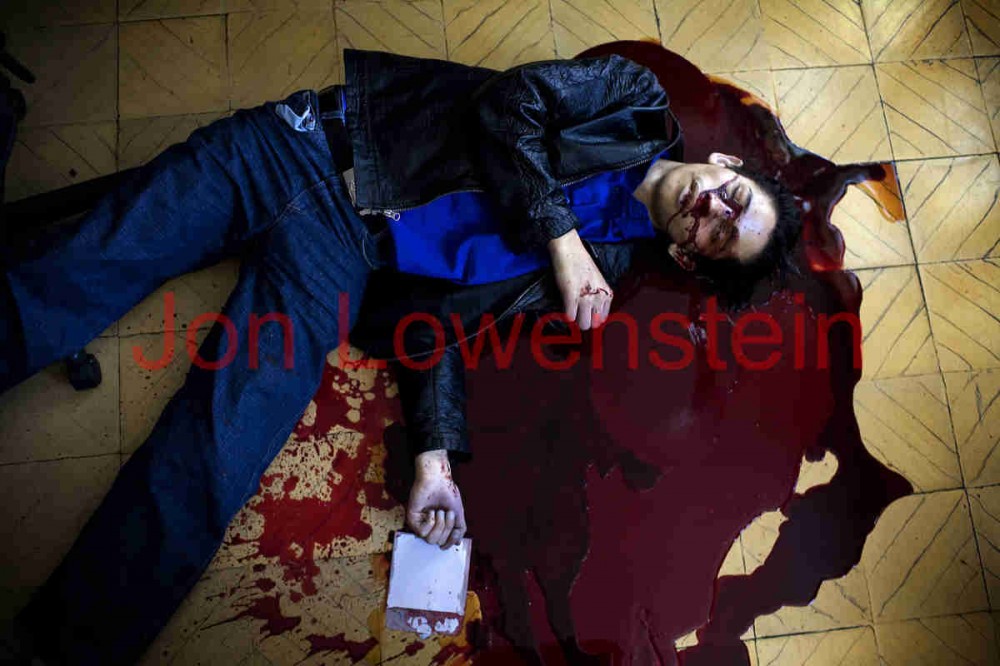 A lawyer's assistant is slain while working at the front desk in a  law office in Zone 9 in  Guatemala City.
GUATEMALA CITY, GUATEMALA – This photo essay comes from international photojournalist, Jon Lowenstein, an esteemed colleague and good friend who spends much of his time working in Latin America.
Recently, Lowenstein returned from Guatemala where he's documented the methodical takeover by the Gulf Cartel, a horror story you'll be hard pressed to find many others working on. I think you'll find his story engaging and illustrative of a situation that has gone beyond the ability of any state to control. To see more of Lowenstein's work, visit
Noor Images
.
IN COLD BLOOD: ULTRA-VIOLENCE IN GUATEMALA
By Jon Lowenstein
More than ten years after the end of a bloody 36-year civil war, the yearly murder totals in Guatemala are approaching or surpassing the war years. More than 5600 people were murdered in Guatemala during 2008, exceeding its neighbor to the north, Mexico, which has eight times the population. In all parts of Guatemala, violence is out of control. Many feel that the current government has little or no command over the various forces underpinning basic  civic normalcy. Charges are brought in less than two percent of murder cases. With the daily drumbeat of intimidation, fear, extortion, and murder continually met with impunity, the local population grows increasingly desperate. Because the police often do nothing, it is not uncommon for street justice to take over, with mobs clamoring to protect their neighborhoods and enforce provisional order.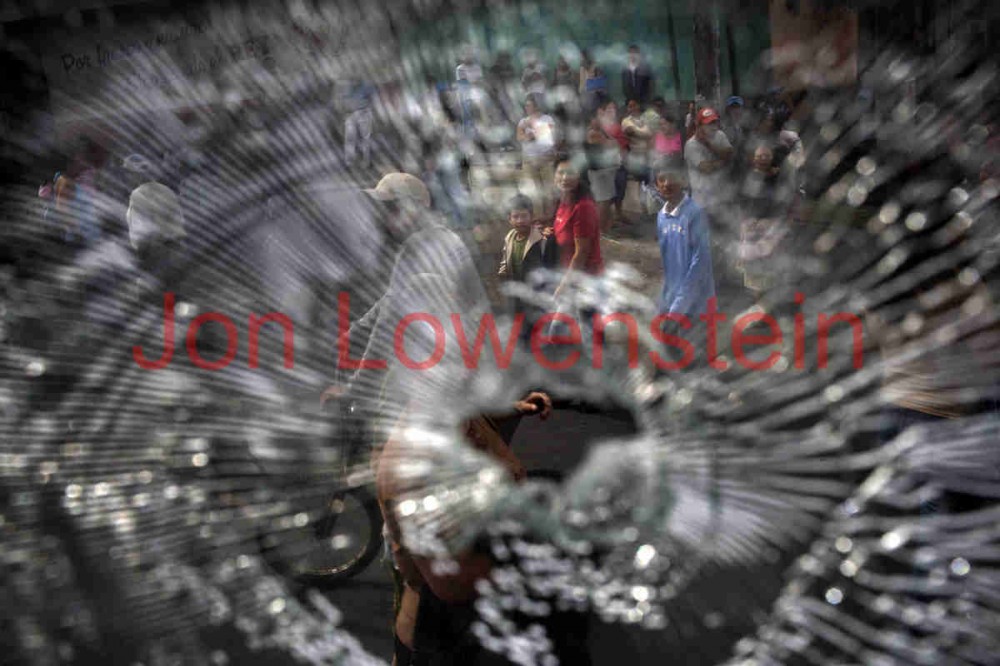 Residents of Mixco, a suburb of Guatemala City,  look at a bus where the driver was gunned down on Valentine's Day.
175 bus drivers were murdered in cold blood in Guatemala City this year. This is more than seven times the number murdered last year. During one five-day stretch in February, we documented the murder of eighteen drivers and their assistants. Organized crime syndicates who enforce a strict regimen of weekly
extorciones
are executing the drivers. If the drivers don't pay, they and their assistants are summarily executed in cold blood. One set of killers dressed up as circus clowns and murdered a bus driver. To make matters worse, even drivers who have paid their extortion money are now being killed, which has led many to suspect the slaughter is part of an orchestrated effort to destabilize the Alvaro Colom presidential government. The entire society is impacted by this all-encompassing violence. Horrific scenes of ultra violence occur daily.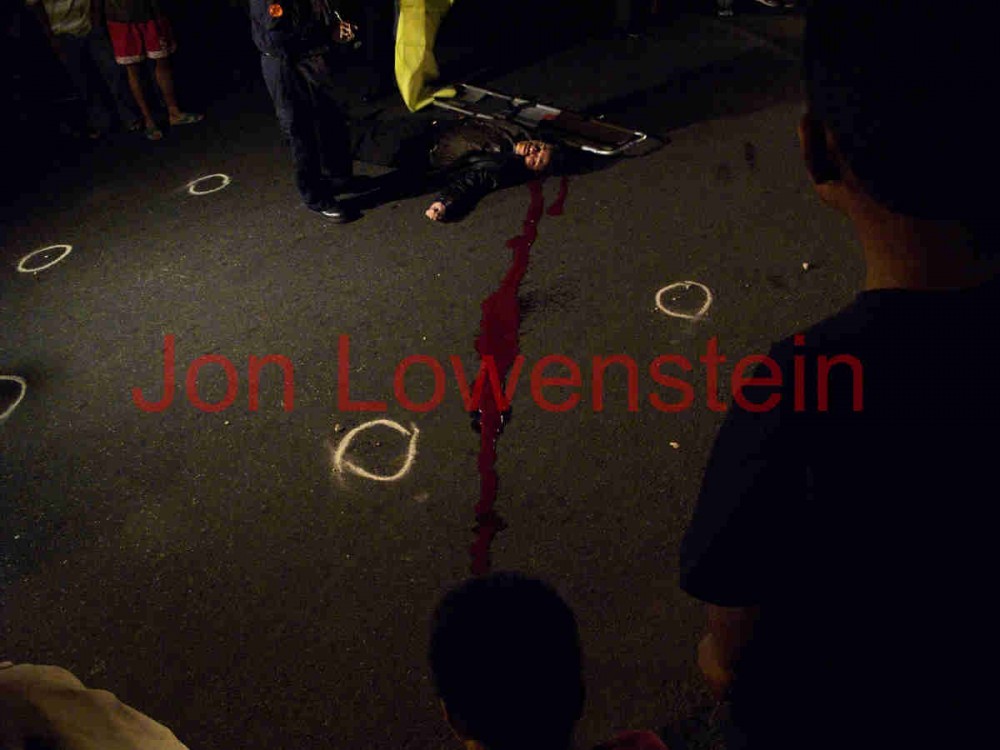 30th Street and 9th Avenue in Zona 8.This man was shot at least seven times as assailants killed him and stole his cell phone. Although murders like this may seem random a highly organized network of crime syndicates exists that 'employs' criminals who carry out street crimes with alarming results. These gang members or 'mareros' must fulfill a quota of a certain number of cell phones each day and will be threatened with bodily harm or even death if they do not reach their quota. As one journalist friend explained to me "You must be ready to give up your phone or camera because if you hesitate they will shoot you."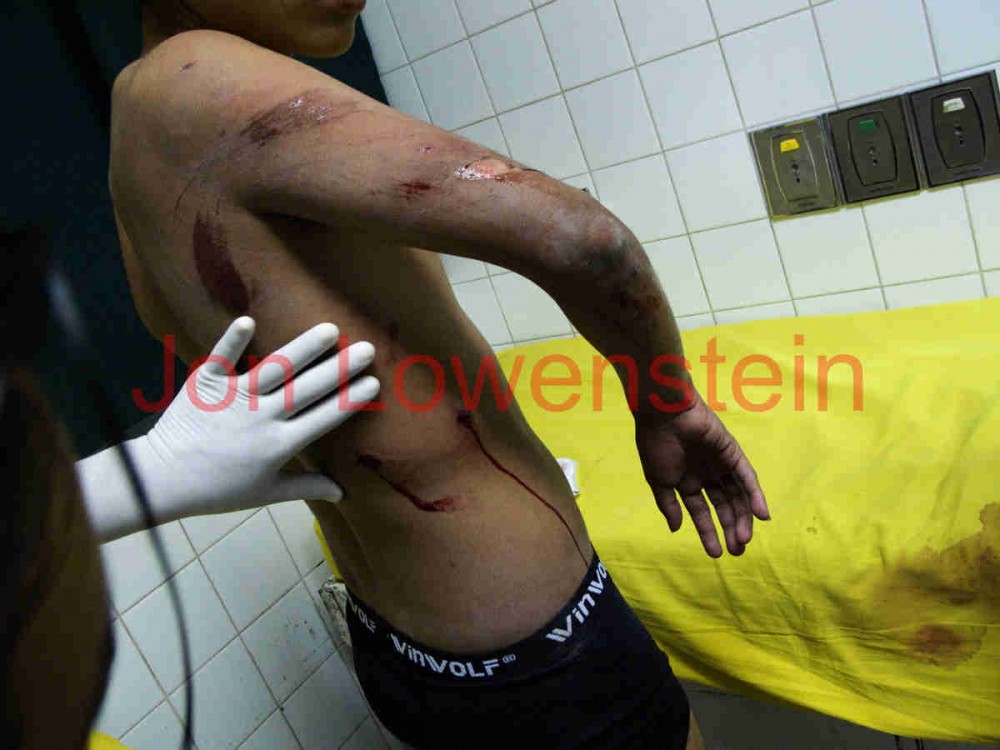 On December 9, 2008 20 people were shot in three simultaneous attacks on 'tienditas' or local neighborhood stores throughout the city. This teenager was shot through his side and escaped without major injury because the bullet passed through his body, but did not hit any major organs. The wounded arrived one after the other over the course of 15 minutes at the Roosevelt Public Hospital in Guatemala City. Many of the victims were shot in the legs and lower body, but this guy extremely lucky because he was shot in the side.
German Cabrera videotapes the body of a man who was executed in a dark alley in Guatemala City. Cabrera is an auto-mechanic during the day and a 'Nota Roja' video journalist the rest of the time. He began documenting the violence more than ten years ago when he was a volunteer firefighers and since that time has made an effort to continue to show the effect of social violence in his adopted country. He is originally from Nicaragua, but came to Guatemala when he was fourteen years old.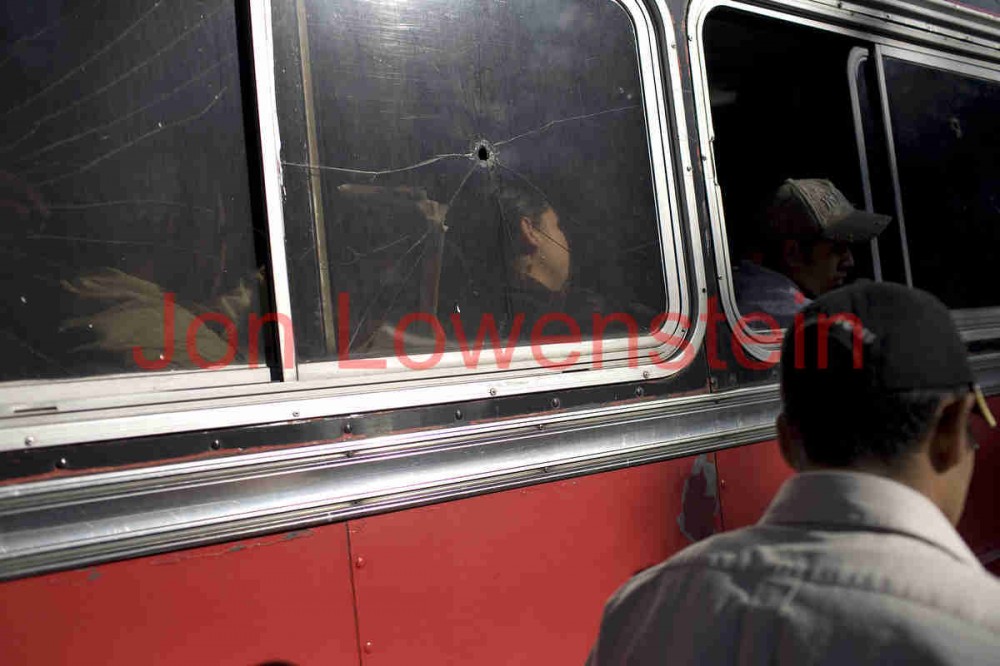 The violence in Guatemala City is so prevalent that many bus companies choose not to fix their buses after they are damaged by bullets.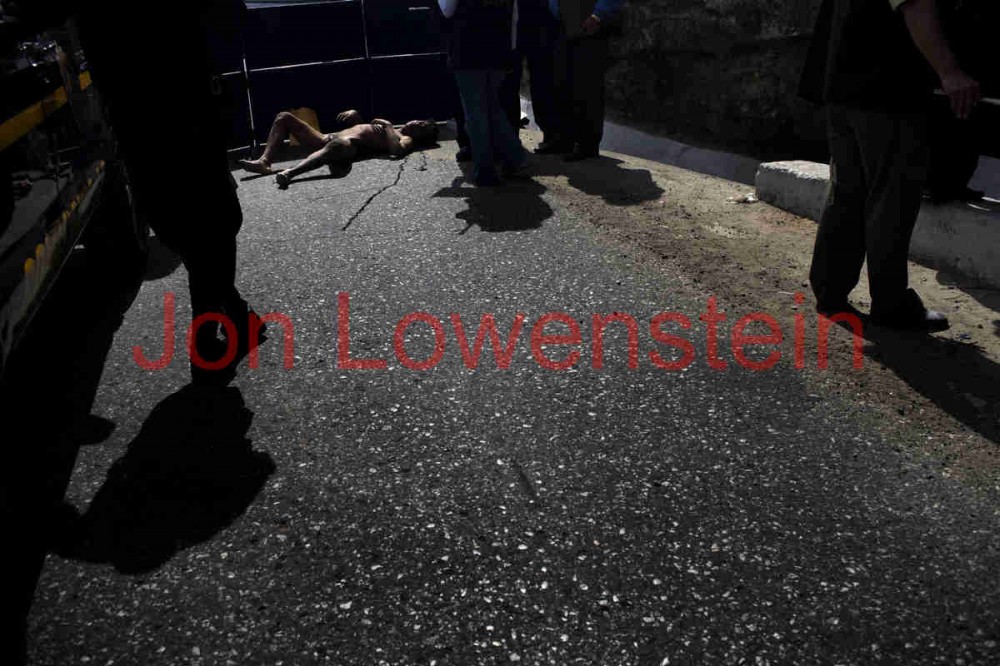 Guatemala is one of the most violent countries in the world. The Inter-American Commission on Human Rights reported last year that Guatemala had the highest murder rate in all of Latin America, with 70 homicides per 100,000 people.  The country's murder rate was about eight times higher than the global average and close to four times higher than the murder rate throughout the Americas.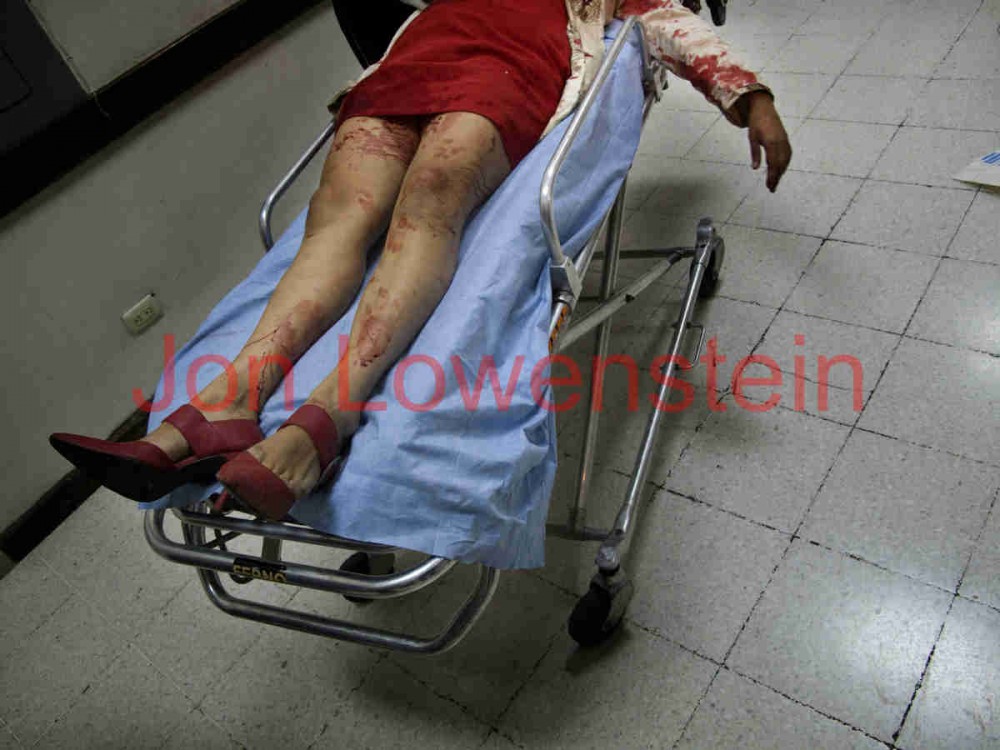 Mauda Pineda Toledo, 48, was attacked and stabbed when she took a taxi while celebrating her 48th birthday in Guatemala City. She lay on a stretcher before being taken into the emergency room. Femicide is a growing problem in Guatemala.  It is possible that in the past femicide was simply labeled as a homicide, but today it's recognized and correctly identified by investigators.  Femicide is the systematic killing of women.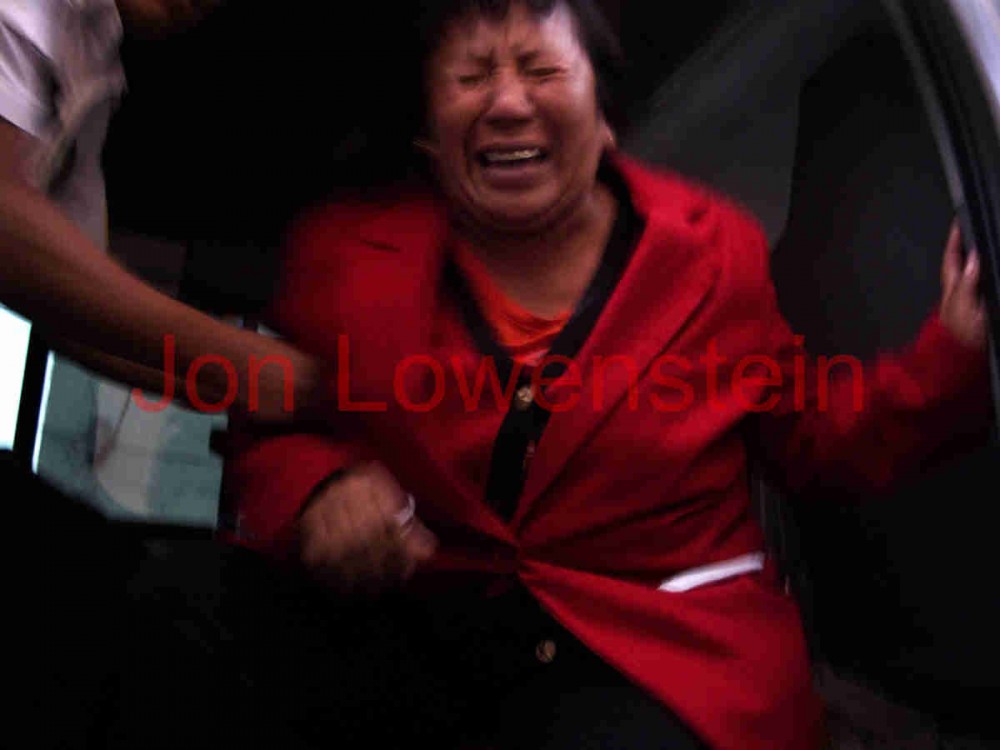 Sixth Street and 14th Avenue Zone 1. Elvira Castillo mourns the death of her only son Carlos Arturo de Leon Castillo, 30, who was murdered at his office job during the middle of a late December afternoon. Witnesses said the murderer walked in to the office, shot the man and then calmly got on his motorcycle and drove off.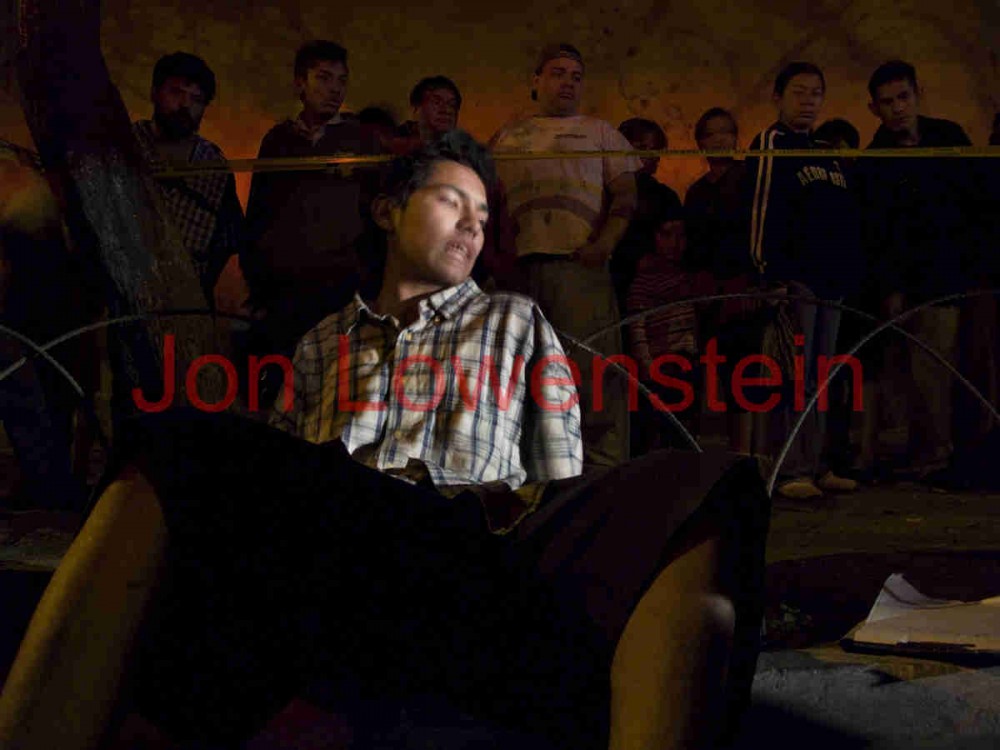 A 'marero' or gang member who attempted to rob a bus with a toy gun sits on the ground after he was handcuffed by the police. His accomplice was shot by a passenger and brought to the San Juan de Dios Hospital. Vigilante justice is becoming increasingly common in Guatemala City as the ineffectual police and military fail to keep the civilian population safe.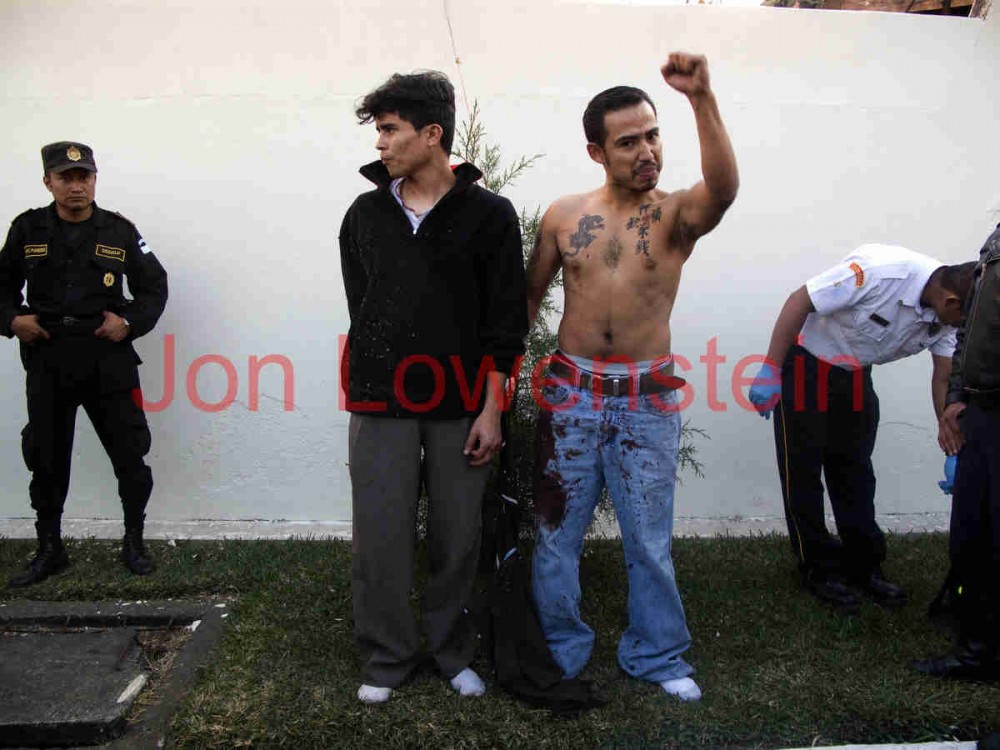 Brian Castro Barrios Esau, 23 and Luis Carlos Giron, 25 wait to be processed after Giron was shot by a vigilante. The men robbed a Mexican Cevicheria in San Cristobal, a Guatemala City neighborhood. After the robbery, the alleged vigilante, who was a relative of the owner of the restaurant, followed the men into a upper-middle class neighborhood and shot at the assailant's car numerous times. The driver was killed and Carlos Giron was injured in the right arm. He was arrested with his friend. At the time of their arrest they were carrying cell phones, US dollars, loaded weapons and and a significant amount of Quetzales.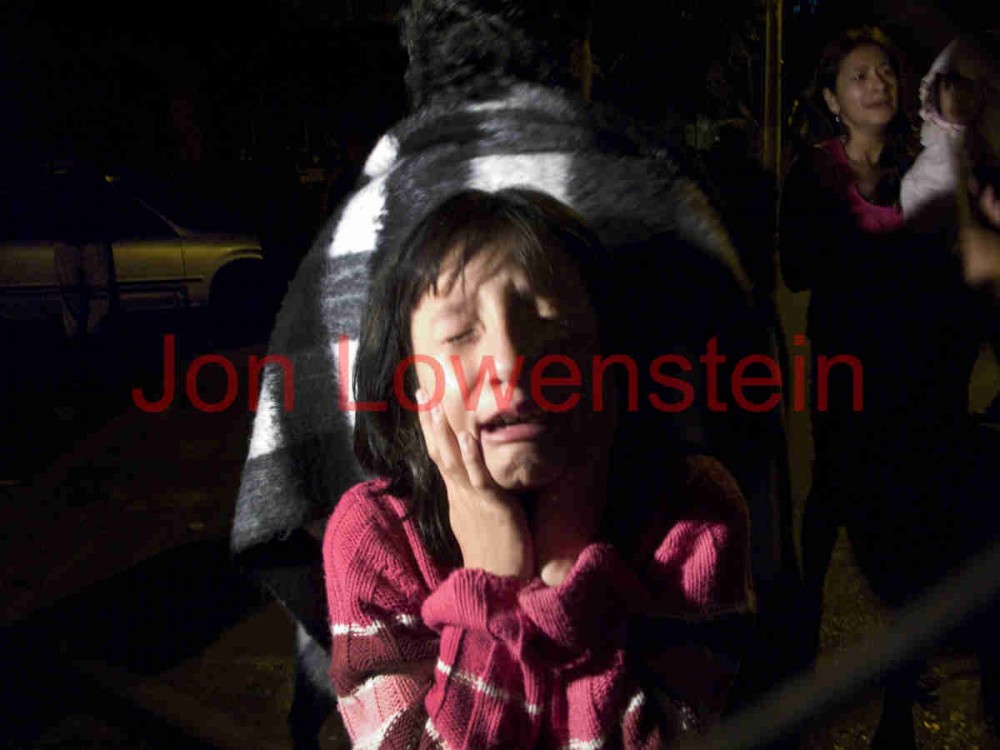 Jerica Estrada, 7, mourns the loss of her father Edgar Umberto Estrada Sanchez who was shot in the back while riding home with his son Oscar in Zone 7 of Guatemala City. The extended family was returning home from a weekend away and the two men were on Oscar's motorcyle when two men approached them on motorcycles. They flashed a gun and then shot Edgar five times in the back. Most of the bullets stopped in the father, but one bullet reached through to the Oscar's body. Edgar died and his body saved the life of his son. Jerica witnessed the aftermath of the murder and the everyone went to the Roosevelt Hospital to await the news of how Edgar and Oscar were doing. It was there that Edgar was pronounced dead and Jerica reacted to the news.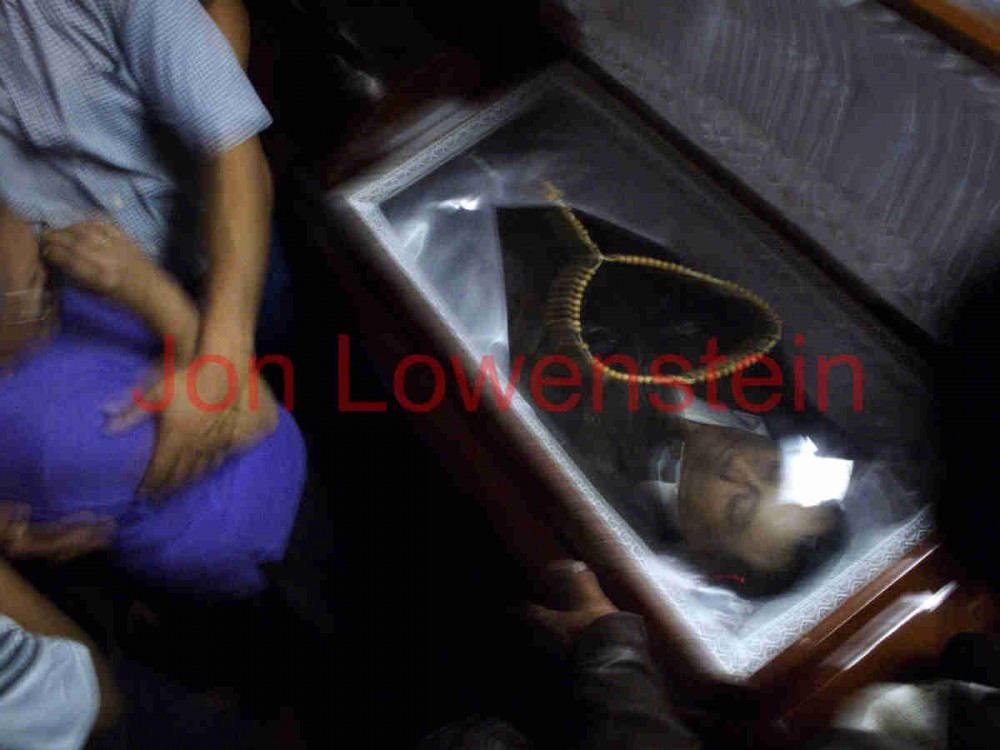 Family members, friends and fellow bus drivers gather to mourn Jesus Ubaldo Munoz, the owner of Josefinas bus company outside of Guatemala City. It was rumored that he was cooperating with local police to try and stop the extortion of bus drivers. Thousands of people attended the funeral.
Lowenstein is a 2008 Alicia Patterson Fellow and the 2007 Getty Award for Editorial Images. He participated in the Open Society Institute's Moving Walls VII Exhibition in New York City and recently completed his first book which explores the lives of developmentally disabled people in Illinois. He lives in Chicago.