A Surreal Demarcation
Apr 7th, 2009 | By Michel Marizco | Category:
Organized Crime
,
Politics

Email
Facebook

Twitter

Post to Delicious

Stumble This Post

Buzz This Post

Digg This Post
As far as villains go, George Iknadosian seemed the Hollywood archetype for the role. Everything about the merchant fit the bill for a proper switch in title, from gunstore owner to arms dealer.
The Feds and the state of Arizona tried to paint a portrait of an Egyptian-born businessman who moved to Arizona after the federal assault rifle ban sunsetted, then sold hundreds of weapons to the Sinaloans; 711 weapons to be precise, or approximately ten percent of the traced U.S. guns used in crimes in Mexico in 2008. The Feds leaked out juicy tidbits; that one of Iknadosian's .38 Supers was tucked into the waistband of Alfredo "El Mochomo" Beltrán Leyva. That the diamond-studded map of Sinaloa on the gun butt of Sinaloa border narco-boss Hugo Castro's nine-millimeter cost $35,000. That Iknadosian's employees were selling the guns themselves on the streets of Nogales. They had the poor bastard strung up in the courtroom, ready to beat him like a piñata.
A county judge made short work of the case, tossing it before it even made it to jury. The judge's ruling was simple and at the heart of the problem of supply and demand: the gun buyers were eligible to buy and as a result, Iknadosian's sales were legitimate. Whether the guns ended up in Beltrán's waistband or used to sweep down an entire unit of federales, was of no legal concern.
The case's negation comes at an awkward time for the U.S.'s sudden interest in Mexico's weapons problem. I notice that Secretary of State Hillary Clinton is using Mexico to revive the assault weapons ban, saying in Monterrey, "we can worry about what's coming north but the Mexican people are worried about what's coming south: assault weapons, bazookas, grenades."
The Mexican government of course, is also quick to lay the blame on the gringos. So let's put all the gun ownership noise and rhetoric behind us and cut the bullshit, shall we? Yes, we shall.
Let's instead take a look at the at the legitimate and well documented sales of hand grenades, rockets, bombs, assault rifles and missiles that U.S. weapons exporters were authorized to sell to Mexico's Ministry of Defense in 2007.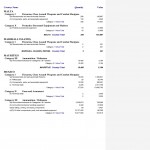 The numbers include:
10,530 different types of pistols and rifles worth $7 million.
3.3 million rounds of ammunition.
3,578 rockets, bombs and mines (I've no idea why blasting caps and torpedoes were squeezed into the same category but not distinguished). 215 missiles.
The numbers come from the State Department's Direct Commercial Sales Export Authorizations for Fiscal Year 2007 report. Those were the weapons and munitions that U.S. exporters legally sold to the government of Mexico.
Are we supposed to believe that the Mexican government has kept a close, careful accounting of these weapons it bought from the gringos? Having followed Mexico's nearly frightening ineptitude when it comes to murder investigations, public security and graft management, I'm going to venture no. I'm going to guess that some of those 10,000 rifles and guns have been … misappropriated … somewhere down the line. And I'm going to guess that not all of those 3,578 explosives are carefully accounted-for blasting caps.
For weeks, the Calderón and Obama administrations have pounded home the point that the Iknadosians of the border states are a grave and imminent danger to the securities of this border.
But this border's a magical place and not everything is as it seems. Sometimes it's what I love about this place.