God's Gonna Cut You Down
Jun 11th, 2009 | By Michel Marizco | Category:
General News
,
Politics

Email
Facebook

Twitter

Post to Delicious

Stumble This Post

Buzz This Post

Digg This Post
THE BORDER REPORT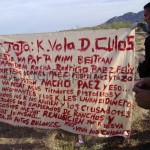 Is Caborca, Sonora, changing hands? If so, the latest would-be owners want everybody out, the narcos, the cops and the mayors from every town in the Pinacate Desert. And the new guys are backed by Macho Prieto himself, Mayo Zambada's security chief.
What happened here last week was a sheer massacre, the carnage going far beyond what now passes for normal along the Mexican border. (Be warned: Gross).
The incident started with a mass kidnapping of four people in Plutarco Elias Calles, late Wednesday night. What happened next was pure Macho M.O., down to the matching cars, reminiscent of the Bazucaso de Obregón in early '05. On Thursday afternoon, a convoy of five Yukons stopped outside the state police substation, gunmen attacking the building with machine guns fired from the sunroofs. Nothing more than intimidation; only two hundred rounds and no serious injuries. The coup de grace came Friday when a Yukon blew past a federal checkpoint, headed north. The Policia Federal Preventiva chased the Yukon and found it abandoned on the side of road heading north to Sonoyta and the U.S. border. Inside the SUV, police found the bodies of eleven men, nine had been burned and chopped to pieces, the heads, arms and legs removed.
A state police source in the area speculates the killers intended to pile the bodies in a heap and shroud them with a pair of homemade banners directed not only to the Beltrán Leyva cell under Nini Beltrán but to Nacho Paéz with the Sinaloans.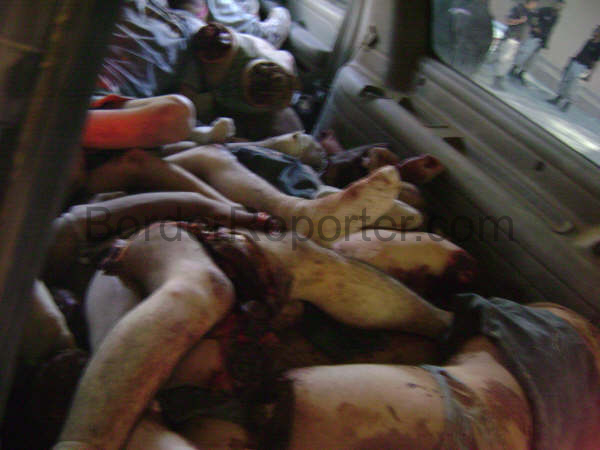 The first reads: "Haha: What a Bunch of Assholes
This is for you, Nini Beltrán, Chapon de la Rocha, Rodrigo Paéz, Felix, El Paletero , Leonel Paez, Pedro Paez and your boss Nacho Paez ...
"Your dealers, your gunmen, your snitches, your money launderers, your ranch workers, your drug mules ... Quit now or the same is going to happen to you. Ha Ha! ... "
Someone used a saw to slice the arms and legs and heads from nine of the eleven bodies. (photos courtesy, Sonora State Police.)
The cut-up is savage, a logical progression from the beheadings of last year. It's to be expected; someone had to escalate to a new level, like a contest between whackjobs to see who can top whom. We went from video-recorded tiros de gracia in 2006 to Youtube beheadings in 2007 to ... this.
What's curious are the names on the banners, or rather, the names not on the banners. They mention everyone in charge in Caborca, everyone working for either Nini Beltrán or Nacho Paéz.
Ramón "Negro" Sabori doesn't appear anywhere in this and by all counts, he's the small newcomer that's rapidly stepped up.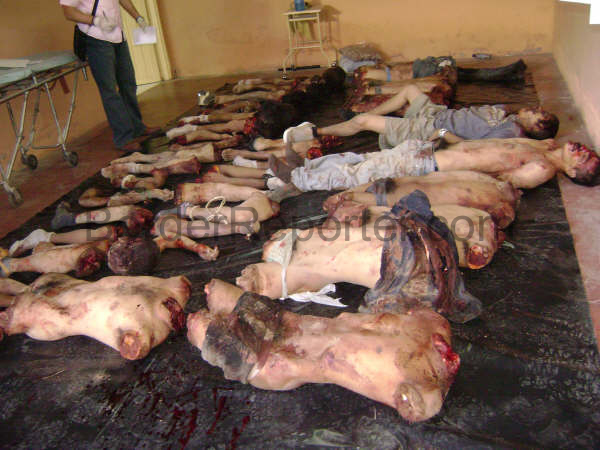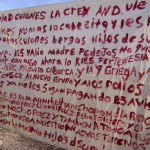 "A second banner reads: Vola de culones la crey and ule putos y esto es nomas la cabezita y les falta la parte de atras culones vergas hijos de su puta madre. Les valio madres pendejos no quicieron arreglarse conmigo ahora les pertenecsia es sasabe, altar, pitiquito, caborca y y griega y ahora les pertenece al nuevo grupo y los pollos y polleros ya no le sigan pagando es aviso este mensaje es para  nini beltran chapo de la rocha."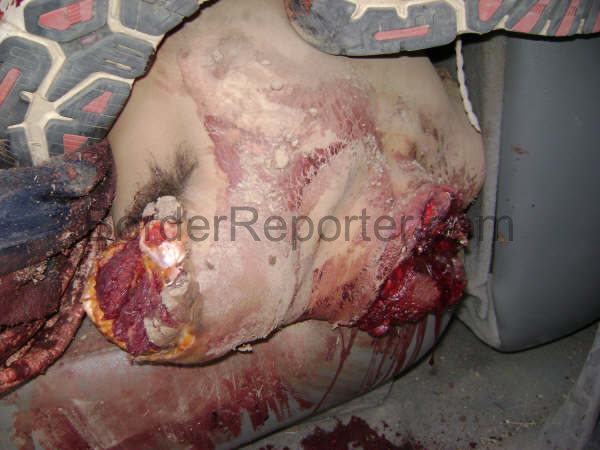 What's a little surprising is that Sabori, who's controlled the Altar-Sasabe route for several years now, was mostly into migrant smuggling. He seems to be on the cusp of an aggressive expansion tour.
¿Ya 'stuvo, no?
Pero no. Now we patiently await the éncore.