ICE Agent in Hot Water?
Aug 13th, 2009 | By Michel Marizco | Category:
General News
,
Organized Crime
,
Politics

Email
Facebook

Twitter

Post to Delicious

Stumble This Post

Buzz This Post

Digg This Post
THE BORDER REPORT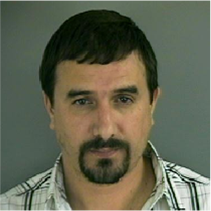 Cd. Juárez – A U.S. Immigration and Customs Enforcement agent is being investigated on possible corruption charges after running an informant network that has imploded throughout the El Paso law enforcement community, a Mexican law enforcement source in Juárez said this morning.
The agent, who goes by the nickname VeeJay or DeeJay (he wasn't certain), was moved out of the area after his primary informant, Jose Daniel Gonzalez Galeana, was shot dead in El Paso. Gonzalez, if you recall, was a high level cartel figure for La Linea, the crew of killers operating under the auspices of Vicente Carrillo Fuentes. He was shot and killed outside his girlfriend's home on Pony Trail Drive, near the home of El Paso police chief, Gregory Allen. Last Monday, El Paso police arrested Ruben Rodriguez and two other men, including a U.S. Army soldier out of Fort Bliss. (Galeana is pictured above in this photo courtesy of Crime Stoppers, El Paso.)
The Juárez Cartel believed Gonzalez had given up Pedro Sanchez Aranas, El Tigre; the number three man of the Juárez Cartel's infrastructure. As a result, Rodriguez was sent in to kill the informant.
Police sources in El Paso aren't saying much but my sources in Juárez say VeeJay was running both informants, Rodriguez and Gonzalez. Now, I'm told, the agent is being investigated to see if he had any ties back to the cartel.
Gonzalez's murder is the highest level cartel assassination performed on the U.S. side of the border and one of the creepiest. The case has chilled relationships between local and federal law enforcement in El Paso because the El Paso Police Department was never told Gonzalez had been living so close to the chief of police. It's also raised suspicions on the Mexican side that the ICE agent was compromised, as classic a man bites dog story as any I've ever heard.
Gonzalez was shot eight times outside his girlfriend's $364,000 home. He was identified as the owner of a trucking company when he died. Publicly, the Feds were alarmed because Gonzalez was a high-level cartel figure, the first to be executed on the U.S. side that they ever acknowledged in this latest Mexican drug war. What the Feds didn't say was that Gonzalez was working as an informant for ICE when he died. Or that ICE had given him a S-Visa, a visa for snitches, I think Gonzalez was given the S-5, meaning no State Department oversight.
Sanchez, his former cartel boss, was arrested in Hidalgo in May 2008 at the hands of the Mexican Army. Gonzalez, it's said, was the man who gave him up. What I've never known is whether Gonzalez gave him up because he was taking money for the Feds or because he stood to succeed Sanchez in the hierarchy of the Juárez Cartel.
What is known is was shot eight times when he fell. Last Monday, El Paso Police arrested Rodriguez, soldier Michael Jackson Apodoca, 18 who is accused of being the triggerman and  Christopher Andrew Duran, a 17-year-old who drove the getaway car. Duran wasn't supposed to be at the site of the hit, Juárez Cartel associates I spoke with claim. On Wednesday, a 16-year-old was also arrested in the execution.
Rodriguez admitted to El Paso police that he was also a snitch but told the cops that he had been instructed to hunt down Gonzalez.
I spoke with the El Paso police department; they didn't have much new to offer except to note that they were the arresting agency on the hit. No DEA, no FBI, and definitely, absolutely, no ICE agents were involved in the arrest.
It's a mess. Was this ICE agent, the handler for snitches, in fact a snitch himself, one working for the Juárez cartel? Rodriguez is a known killer, so's Gonzalez, whose crew, La Linea, has been responsible for scores of murders in Mexico, I'm not sure anyone knows how many. Both men were too high up to be the triggermen, instead, they were the autóres intelectual working Juárez these days.
Does ICE really believe that it's practical, even moral, to run killers as snitches on drug traffickers? It appears the agency does think so, yes. It's how we've ended up with the situational ethics quandary we're in today. Or, desmadre.
One only need look at the case of Guillermo Ramirez Pereyo, AKA Lalo. Lalo was ICE's informant within the Juárez Cartel the last time a situation like this came up, 2004. He participated and knew of the murders of at least a dozen men in Juárez but ICE kept him on the payroll anyway and never moved against him until they lost control of the man and he started talking about taking down a DEA agent. In that case, ICE saw fit to run an informant they knew was a killer in exchange information, not on the cocaine industry of the cartel's business of a counterfeit cigarette operation being run in Juárez.
VeeJay or whatever the agent's name is, has just started up a whole new level of questions that need to be asked of the federal law enforcement community in El Paso.
The three were a bit of a mess as far as hitmen go. Court records show that about ten days after killing Gonzalez, the three were involved in an attempted theft of a trailer full of flat-screen televisions. Rodriguez had an Alejandro Escalante post his $10,000 bond. Jackson, the soldier and Duran both had bondsmen pay their $10,000, all on Aug. 4,
Stay tuned. Still digging.
Story Archive
Juárez Trafficker, U.S. Cop or Both?