El Mayito: The Half Billion Dollar Kingpin + ¿Sigue La Reina?
Feb 19th, 2010 | By Michel Marizco | Category:
General News
,
Organized Crime
,
Politics

Email
Facebook

Twitter

Post to Delicious

Stumble This Post

Buzz This Post

Digg This Post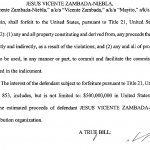 THE BORDER REPORT
Vicente Zambada Niebla's extradition went off without a hitch through Brownsville-Matamoros, yesterday, surprising some of us that the son of
El Mayo
, Ismael Zambada Garcia would be tossed to the Americans so easily. But it's his charges that interest me. El Mayito is wanted in the United States in two separate federal court cases, one in Illinois, where he was sent yesterday; and the second in Washington D.C. That case is sealed but in short, it is the beginning of the case against the present-day Sinaloa Federation, Operation Trifecta. An old copy of the indictment in my files points to Niebla as a lieutenant for his father's smuggling enterprise; trafficking more than a ton of cocaine into New York and New Jersey in '01 and '02; 2.4 tons of cocaine into Chicago and 45 (!!) pounds to California. The Illinois case pegs him on two counts of trafficking "five or more kilograms" of cocaine on two separate occasions. Don't let the small numbers here fool ya'. American drug laws don't differentiate between five keys and five tons when it comes to possession with intent to distribute charges. Then there's the final charge in the Illinois indictment: a forfeiture allegation of half a billion dollars "representing the estimated proceeds of defendant Jesus Vicente Zambada Niebla's narcotics distribution organization." I wonder if they really expect him to surrender that amount of money. When the Trifecta investigation first emerged, El Mayito was implicated in at least 15 murders in Mexico, including that of Alfredo de la Torre Marquez, Tijuana's police chief in February 2000. It is significant that up until Trifecta, everyone had presumed the  Arellano Felix family had ordered the chief's killing. The Trifecta operation started with the
Macel
tunaboat off the Pacific Coast, nine tons of cocaine in December 2001. It was the first time a connection had been established between the Norte del Valle Cartel in Colombia, controlled by Juan Diego Espinoza and his wife, the Sinaloan, Sandra Avila Beltrán. Both of them were arrested in late 2007. I wonder at times, if the birds aren't singing in prison. From what I understand, speaking to a colleague in Mexico City, the PGR is opposing Mexico's Ministry of Foreign Affairs and fighting her extradition to the U.S., a sealed case in Miami. Let's wait and see.