He Gave Up
Sep 1st, 2010 | By Michel Marizco | Category:
General News
,
Politics

Email
Facebook

Twitter

Post to Delicious

Stumble This Post

Buzz This Post

Digg This Post
THE BORDER REPORT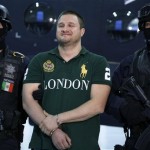 Just got off the phone with a criminal defense attorney familiar with Edgar La Barbie Valdez Villareal's cases in both countries, including this one in Atlanta. Turns out La Barbie gave himself up, surrendering to Mexican officials and cutting a deal for deportation to face charges in the U.S.
"He's got the Zetas after his ass. He's got the Beltrans after his ass. He's got the Sinaloans after his ass. He had no place to go to so he turned to the enemy of everybody. How's that saying go? The enemy of my enemy is my friend," the attorney says.
That enemy, of course, is Pres. Felipe Calderón and the government of Mexico, who on Monday arrested La Barbie at a posh hacienda outside Mexico City.
It will be interesting to see how his deportation is negotiated. In the U.S., Valdez faces trafficking charges with the potential for a life sentence. In Mexico, he faces an untold number of murder charges. The attorney I spoke with anticipates Barbie will be deported within the next three months to face cocaine trafficking charges here, then, perhaps, murder in Mexico. It's possible he'll never face murder charges in Mexico. The U.S. has had a history of heavily prosecuting drug traffickers in this country who faced murder charges there. Here's one case I wrote about last year, Antonio Frausto Ocampo, accused of murdering a Mexican journalist in Sinaloa but doing a life term in Nebraska.
He's already singing, telling Mexican authorities that he knew the Western Hemisphere's top drug lords, from Joaquín Shorty Guzmán to Ismael Mayo Zambada to Hector Beltrán Leyva. He can't resist boasting, telling the story of how he considered financing a movie based on his life as a Mexican drug lord. More correctly, perhaps, as a white guy turned Mexican drug lord. And in his declarations, he's very subtly putting the blame for the 2008 murders of high level Mexican law enforcement squarely on the shoulders of a dead man, Arturo Beltrán, saying Beltrán had ordered the killings.
I guess I'm not surprised. Valdez may have been a border rat; born and raised in Laredo, but in the end, he was a white guy working in Mexico. He wasn't from there, he wasn't part of the culture of the men with whom he cultivated relationships, Arturo Beltrán, his brother, Alfredo, Chapo, Vicente Carrillo (in 2003, Barbie bribed a high level AFI official, Domingo Gonzales, to provide protection for the Sinaloans and for the Juárez Cartel).
So perhaps the smile makes sense, now. Perhaps that's the grin of an Anglo who got his hands a little dirty by playing in Mexico, but then, when the heat came down and Ramos began to talk to DEA in Laredo, with all the wolves on his tail, he could call off the game, turn himself in and know that he'd be deported back to the U.S. instead. There's a tremendous difference a deportation and an extradition. To be deported is to be expelled. To be extradited is to be surrendered.
Barbie turned himself in. There's not many capos who would do that willingly. But they're not Anglos with the freedom to move around the U.S.
As my attorney says in a later conversation, "There's a reason he was wearing a London shirt."